Novus
Each year Novus and Novus Cambria proudly delivers education, rehabilitation support and opportunity to 60,000 adults and young people across England and Wales.
We work in partnership with national and devolved governments, HMPPS and HMPPS Wales, LEPs, NHS trusts, charities, employers, authorities and offenders to create the foundations for change, both for individuals and for our communities.
With over 25  years' experience, Novus is recognised for its provision of offender rehabilitative provision including functional, vocational and enriched employment support, and professional service and transformation delivery, working hand-in-hand with local stakeholders.
Novus has extensive expertise of providing support to individuals to enable them to achieve their potential. This includes information, advice and guidance services; support for vulnerable individuals and individuals with Special Education Needs (SEN); and Through-the-Gate and community-based services.
Novus is very proud to equip individuals with the hard and soft skills they need to gain and hold paid employment – and the opportunity to put these skills to work. Novus has developed a national network of partner employers under its Novus Works partnership programme to deliver more than just career routeways, but a point from which to start their new careers. 
Since 1993, Novus has earned a reputation for quality, innovation and partnership working, which is taking its delivery into new service areas aligned to education, skills and employability.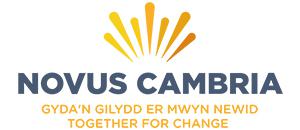 Novus Cambria brings together the wealth and breadth of experience of Novus - the UK's leading provider of offender education, support and opportunity, helping to create the foundations for change - and Coleg Cambria in Wales, one of the UK's largest and highest performing colleges.
Our focus is on offering the very best education and support for our learners in North Wales along with life-changing opportunities to find work within our communities upon release. Wales is at the heart of our organisation and our strong links with employers and stakeholders regionally and UK-wide, allows us to provide the highest level of learning and skills at our state-of-the-art learning establishment at HMP Berwyn. Together we change lives and make a difference to our communities.
Pret, Virgin StartUp, Willmott Dixon Interiors, CP UK Group, OCS Group, Booker, Barclays and many more. 
Functional skills, vocational skills; digital skills, ESOL, support for individuals with learning difficulties & disabilities; information, advice & guidance services, career routeways, careers counseling, placement support, Through the Gate.